Success Stories >> Elisha's Story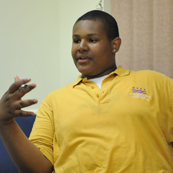 Schooling and socialization have created challenges for Elisha because of emotional and behavior disorders, including attention-deficit hyperactivity disorder. With medication and support, he is now a well-spoken, outgoing 16-year-old with a clear vision of what he wants to accomplish. Elisha's strengths include his self-awareness about what he does well and what he has to take responsibility for in order to be successful. Elisha learned to speak up for himself to teachers and other adults and now he is active in speaking up for others with disabilities, too.
Early Years
Elisha's mother, Kisha, says, "When Elisha was little, I was a stay-at-home mom, so I could teach him and we did lots of activities. He wasn't challenged when he went to school; for example he already knew his numbers and shapes. But I started to realize that there was something going on because he kept getting kicked out of schools and programs. I had to stop working again because of all the problems in Pre-K and Kindergarten. The elementary school called all the time, but no one gave me any suggestions. They just said he was uncontrollable and there was nothing they could do. I felt helpless and alone. I didn't know what to do. Finally, when he was six years old, one lady told me to get him tested.
"Advocates for Justice and Education helped me get him tested. All I did was go in to AJE and cry—the paper they gave me ended up soaking wet from my tears. AJE helped me with everything, gave me everything I needed. I still get chill bumps thinking about that time. If I could have done back flips, I would have."
To parents, Kisha says, "Don't be ashamed. I used to blame myself or think it was something I ate when I was pregnant. But if you notice something, don't ignore it. Help your child. Stay on them. If you keep getting bad reports from school, don't allow teachers to belittle your child. Ask for help and get your kids tested. Don't let kids go through years not feeling comfortable. The school might not give you a lot of information, but there are other resources available. Learn about the disorder or disability. Take a psychology class if you have to. Seek mental health professionals and get your kids the counseling and other help they need. I know some kids where it is almost too late; they are almost out of school."
Medical/Health
Elisha is on medication for attention-deficit hyperactivity disorder (ADHD). His advice to young people like him is, "Calm down. Take your medication. I don't like to take it. It has side effects and makes you feel not quite like yourself, but I take it for school. I know I need to take it to achieve my goal of graduating from high school. When I don't take it, I am off the wall. I get into altercations and get aggressive real fast."
Education
Elisha spent most of elementary school in the south, attending Langston Aerospace Environmental Magnet Elementary School in Hot Springs, Arkansas. He remembers two teachers who really stood out: "My 4th grade teacher helped me see my behavior and provided a positive environment for me. I didn't know how I acted, but they recorded me so I could see what I was doing. My 5th grade teacher believed in me and supported my interests. She helped me calm down and got me into space camp, where we got to build a rocket and launch it." When he moved back to DC in the 6th grade, he was two or three years ahead of the other kids academically.
When we spoke, Elisha was in his third year and a senior at Young America Works Public Charter School, which closed after the 2009/10 school year. His focus at this vocational school, which included career training, was aviation. Aviation was integrated into general curriculum; for example, math problems might focus on calculating descent, distance, etc. The students tried out flight simulators, took field trips to Air Force bases and the National Air Show, and had exposure to programs like the Air Force Auxiliary Civil Air Patrol.
His Individualized Education Program (IEP) gives him more time for taking tests. Elisha says, "I have to tell new teachers about me. I get angry fast and might need some space to cool down. The special education coordinator also talks to my teachers about what helps. My school has provided me with good career training, taught me to know what I want to do and to stick to it. They helped me with my resume, practice interviews, and how to present myself. My school has done a lot." Kisha says Elisha has been a leader at his school, organizing a student council to get things done.
To young people like him, Elisha advises, "Don't get suspended. This will be on your record and will be sent to colleges when you apply. Meet with counselors and get it off your chest."
Kisha's advice for teachers is, "Ask yourself, 'What is normal?' We all have different learning styles. If a kid is in special education, don't call them retarded. If behavior is a problem, confront students with it. Let them change. Show them what they are doing and then help them find a different way. Elisha has lots of advice on what NOT to do. He has had teachers say, 'You are never going to amount to anything.' The way some teachers talk shows they don't like students. Learn more about how to address behavior issues. Look at what works at schools like the Lab School. Be creative. A masters degree is not enough for teaching—you also need hands-on, real-life strategies."
Social Development
Kisha says because of his disorder, Elisha had to learn how to get along. "He had to learn how to accept his end of it and take ownership. I don't let him use his disorder as a crutch. It is has given him strength and made him a better person as he learned to address it. I teach my children to recognize that everyone has special needs and has to learn to work through them."
Elisha attends the Advocates for Justice and Education Youth2Youth program monthly. "It helps me with the skills I need to communicate. They are providing career training and college preparation." To kids like him, Elisha advises, "Learn how to deal with peer pressure. Don't allow other people to get to you. Wait to achieve your goals before you have a girlfriend and sex. You need to focus on being a success first."
The Future
Elisha's goals are to graduate from high school and attend the Air Force Academy or go to college somewhere in the South: "I like the way it is in the South. More relaxed, peaceful. You don't hear sirens. No gangs. Neighbors stick together. People are more respectful." Several members of Elisha's family have been in the military, including a cousin and his great-grandfather, who served in WWII. He has been talking to people about how to accomplish his goals, including some currently serving in the Air Force: "I have found out about degrees and training and am beginning to look at scholarships. The Rehabilitation Services Administration has provided me with information about resources that are available to me because of my disabilities."
Parenting and Advocacy
Kisha says parenting a special-needs kid has been a challenge. "I had to stop working. I got tired of crying. You feel that you are the only one. What has helped me was talking to other parents. Others feel the same way. I have talked one-on-one with other parents. I have done counseling and a woman's support group through my church. We all get our stories out; we console and encourage each other. Doreen Hodges from Family Voices helped me a great deal, also. All these things helped me stay where I needed to be. Now we can do it; we are empowered. We used to be cry-babies; now we don't even flinch. We tell them what we want for our child. I go to the school and talk to them about how everything is going, how we can revise his IEP or 504 or add things like peer mediation, behavior modification, anger management. I am empowered enough to advocate for my kids on my own now. I instilled in them that it is OK to be different. No two people are the same. They can accomplish what they set their minds to. Failure is not an option.
Elisha has also learned to speak up for his needs and what he believes in. He was chosen to speak at City Year and talked about people with disabilities. He likes helping other people speak up for themselves and for each other and being a resource for other youth with disabilities.